We Tell It To Our Children
THE STORY OF PASSOVER
A Haggadah For Seders With Young Children
By Mary Ann Barrows Wark - Illustrations By Craig Oskow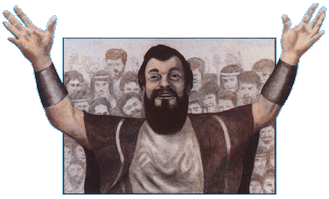 Unique Features
We Tell It To Our Children: A Haggadah for Children and Adults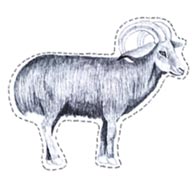 Sheep
The Passover story is made into an engaging drama that reduces a child's confusion.
Passover food symbols like matzah (unleavened bread) and bitter herbs (like horseradish) are explained at the appropriate time in the story.
Lyrics to familiar folk tunes respond to children's thinking while tackling complicated issues surrounding the theme of human freedom.
Over 50 lively, detailed black and white pencil drawings emphasize the immediacy of the ideas and clearly illustrate all the ceremonial food symbols and major ideas of the story. Children can use it like a picture book and "read" just the pictures.
2 editions: The Leader Edition with a full set of finger puppets which need no expertise to make them work. A Guest Edition (no puppets), otherwise identical but more economical.
Format of the book makes it easy for the children to see the pictures while the older children or adults do the reading. Actual size 5 1/2" x 8 1/2".
Young children are involved at all stages: they help cut out and finish the puppets; they sing the songs; as non-readers they can handle the puppets in non-speaking puppet roles; and as beginning readers they can play the one easy-to-read role.
Bound in Wire-O with a spill resistant plastic cover for easy use at a table.

Text set in large print; all responses in bold for easy reading by young and old alike.

The Hebrew is also in large type.
Special sections to personalize and teach about World Jewry.
Without knowing Hebrew, you can fully present all the blessings because they appear in Hebrew, transliteration and gender-sensitive translation.
Traditional Hebrew songs for Passover included in the appendix.
Recipes for charoset from all over the world.