We Tell It To Our Children
THE STORY OF PASSOVER
A Haggadah For Seders With Young Children
By Mary Ann Barrows Wark - Illustrations By Craig Oskow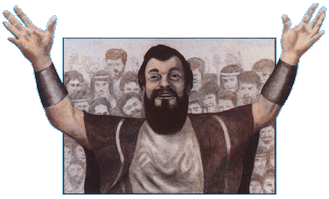 Common Questions
Princess
How many books do I need? You need enough for all readers to be able to see a copy, because there are blessings and songs that everyone participates in. There are a total of 9 puppet roles and a narrator. You can divide the roles-- however, in one scene there are six of the roles. If you are used to sharing haggadot, these work well for sharing. Do you need books for the non readers? There are pictures for every major idea, so children as young as 2 can "read" the pictures. Because the book is spiral bound, the pictures automatically show when the book is folded back.

How much Hebrew is there? Only for the blessings and the four questions. For each Hebrew passage, there is transliteration and translation.

How do I order: Online » or call: 651-644-8533 or FAX: 651-645-8340.
You may mail an order to 1588 Northrop St., Falcon Heights, MN 55108-1322.

How is this different from other haggadahs? Two main differences; the traditional order of the seder is changed so that the ceremonial foods fit into the story. (In medieval times, the ceremonial foods and the story were separated.) Second, the whole haggadah is in "dramatic" format -- a script for the Biblical characters.

What if I don't know how to work puppets very well? You don't have to be a puppeteer to fascinate young children. A bit of movement and a change in voice is all that is required to have children "wonder" whether the puppet is alive.

Is this Orthodox, Conservative or Reform? The author is a Reform Jew, but many Conservative people use it. Many Reform, Conservative and Orthodox rabbis have used it with their children and grandchildren. Is your family willing to try something different and to experiment?


Dear Ms. Wark

While putting away my Seder materials this morning it suddenly occurred to me that I should write you a thank-you note! One of the smartest things I've done in recent years is ordering your, "We Tell It To Our Children".

My original thought was that i wanted to include Rebecca, the world's most beautiful and clever three year old granddaughter, in our Seder. The puppets seemed to be such a grand "hands-on" way of presenting the story of the Exodus. Actually my rather irreverent and rambunctious sons, ages 26 and 29(Harvard '81) were the real surprises. They participated willingly and fought over who was going to play Pharaoh. Instead of rushing their father to complete reading the Haggadah as they usually do, they didn't want any abridgement at all and insisted that we do the entire service. Wonder of wonders! My daughter and her husband are Orthodox felt that historically your version was very illuminating and really was a lesson as well as a lovely Passover Seder.

Believe me, we are a tough group to please and the critics were unanimous in this production. We look forward to doing it for our second night Seder for years to come and I have told many people about the pleasure we derived from such an unusual holiday experience. By the way, Rebecca loved it too--her rendition of the Sheep's "Baa, Baa" was of course, a brilliant interpretation!

Thank you again for adding a new tradition to our family holiday. May you share many such joyous occasions with your family.

Sincerely,
B.W.

How long does the script from this Haggadah take at a seder? Approximately 1-1 1/2 hours depending on whether you eat the ceremonial foods while you keep reading. Unlike other Haggadahs, this one holds everyone's attention.

Do you use this instead of the Haggadah you've used in other years? It is designed to be the only Haggadah you use at your seder. Some families in the past have used parts of it. Many have used it for a second night seder.

What if I don't like the books once I've ordered? If you have not used them, you may return them with the invoice. You are responsible for the return shipping costs.