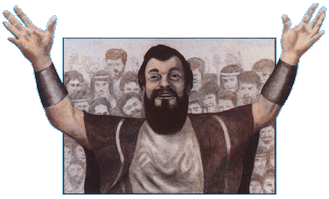 We Tell It To Our Children
THE STORY OF PASSOVER
A Haggadah For Seders With Young Children
By Mary Ann Barrows Wark - Illustrations By Craig Oskow
New Second Edition has blessing translations which are even more gender sensitive than the First Edition.
Leader Edition features attention grabbing cut out puppets!
Guest Edition - same text, no puppets
Over 20,000 sold
A unique Haggadah that transforms the seder into an engaging, action-packed drama. A musical puppet show your family will easily perform at your seder table.
Children as young as 2 years old can have a role.
Endorsed by rabbis and religious educators.
Useful for intermarried families and model seders.